Monteton Jazz Songbooks
---
Through a Creative Renewal Grant from the Arts Council of Indianapolis, I was able to travel to the quaint village of Monteton, France in 2008 to attend the Dordogne Jazz Summer School (DJSS.)  I had two goals – to learn how to play jazz with a combo, and to learn how to write a jazz chart.  Every day, around 60 international students, ages 15-82, studied, rehearsed and performed together.  Every night, I was back in a practice room, writing, erasing, and attempting to come up with something new and different.  I managed to finish "Midnight in Monteton" in time for the big Friday night performance.  It was exciting to find a new medium to write in, a new set of toys to experiment with.  Definitely a new set of challenges.  Returning home, with the memories fresh in my mind, I made a goal of writing one jazz piece per month. 
Not only did I fall in love with Monteton (or maybe because I fell in love with Monteton) I had the opportunity to be part of DJSS again and again.  In 2009, 2010 and 2011, I returned as Composer-in-Residence, bringing eleven new tunes with me each time to present at the school.  (I know that there are 12 months in a year, but I needed that last month to pack. . .)
I started compiling each set of tunes into songbooks, one for each year of writing.  Included are parts for each instrument in a jazz combo (C, B flat, E flat and bass clef) and an optional bass line.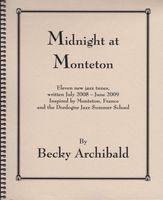 Midnight at Monteton (2009)
Midnight at Monteton
LVB-Bop
Deux Chapeaux
Just One Note
Run of the Mill
Wise Guy
Never Alone
Sincerely Yours
Dizzy 'N Groovy
Get Over the Blues
I've Got Designs on You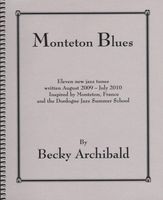 Monteton Blues (2010)
Monteton Blues
Just Like That
If You Only Knew 
Egg, Chips (and Beans) 
Lemonade
No Brainer 
Twas in the Moon of Wintertime
Is This the Real Thing?
B-3 Blues 
Something For You 
Lullaby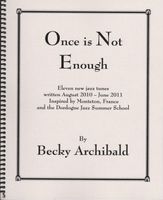 Once is Not Enough (2011)
I Digress 
Lip Service
I Got It
Sunshine & Rain  
Once is Not Enough 
Dee Doo-Doot 
Bullet Proof Blues 
Can't Let It Go
My Knee Mo' 
And Then There Were Two 
Spring Swing  
Newest Jazz Charts (2011 on)
le tour de Jack  (2011)
Biddle Liddle  (2011)
Ba-Doo-Ba-Dee  (2011)
One-O-Four  (2012)
Smokin' Hot Ballad  (2012)
Walk the Talk  (2012)
5/4/3/2/1  (2013)
Because... (2013)
Blue Obsession (2014)
Bluesy Woozy Doozy (2013)
Canon in Blue (2014)
Let's Try it a Second Time (2012)
Listen Up (2012)
Maybe, Possibly, Perhaps (2015)
Messiaen Around (2014)
Sub Zero (2014)
Tattletale (2013)
There's a Frog in the Pool (2013)
Unveiling (2014)
That's How You Do It (2015)
Becky was recently commissioned by the Central Indiana Community Foundation (CICF) to write a jazz composition for the May 10, 2013 celebration of the completion of the Indianapolis Cultural Trail, a world-class urban bike and pedestrian path that connects neighborhoods, Cultural Districts and entertainment amenities. Brian Payne, CICF president and founder/leader of the Indianapolis Cultural Trail, stated that commissioning Becky to write the theme "was one of the best decisions I've made in my 12 years at the foundation."
Like my Page on Facebook!